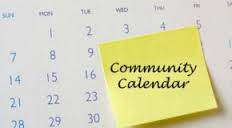 All Meetings are at the Community Center
2023 Club Meetings (All at the Community Center)
The meetings are held quarterly the second Saturday of the first month of each quarter, starting at 4:00 p.m.  Attend meetings to keep up with happenings in your neighborhood.
January 14th – 1st quarter meeting – New Year's meal
April 8th – 2nd quarter meeting
July 8th – 3rd quarter meeting
September 9th – special meeting – Nominations for the upcoming October election
October 14th – 4th quarter meeting – Election and installation of officers for 2023-24
2023 Events  (All at the Community Center)
March 11th – Walk-A-Thon Fund Raiser (Details   Pledge Sheet)
April 8th – Easter Egg Hunt (Easter is Apr 9th)
May 12th & 13th – Huge Garage Sale Fundraiser
June 10th – Ice Cream Social – 7:00 PM
July 1st (Saturday) – 4th of July Parade
November 11th – Community Thanksgiving Feast – 5:00 PM 
Dec 8th – Civic Club Christmas Party 7:00 pm – Bring snacks to share, bring an under $20 gift to exchange, and toy for a child to be donated to Toys for Tots.  A monetary donation will also be made to our local Scenic Loop Fire Department.
Other Activities
Game Nights are the 1st Friday on Every Month from 6 – 9 p.m. Bring a snack if you wish and $1.00.  Cancelled until further notice.
Ladies Pilates and Zumba Class every Tue & Thu at 10:00 AM at the Civic Center.  Cancelled until further notice.